If you are currently using robotic systems in your manufacturing process, you likely already know how easy it makes the process. Not only can you make parts quicker, they often have the same accuracy with each element completed, as would otherwise be unavailable. However, one small deviation can lead to a crash and tool damage if you don't have the right safety protocols in place. To help safeguard your robotic systems, we encourage you to learn more about our state-of-the-art overload protection device.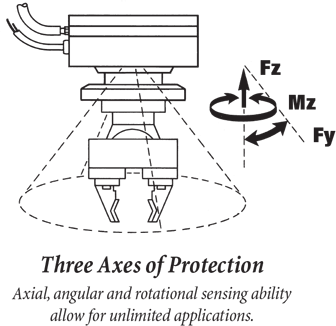 The PFA overload protection device (OPD), also referred to as a flexible robotic wrist, contains a mechanical/pneumatic joint held rigid with air during regular operation. With varying stiffness levels, the OPD wrist can accommodate various payloads just by adjusting the input air pressure.

If an overload is detected, a signal is sent from the overload protection device to end the process control while also venting air pressure to the joint. Activation results in the simultaneous immediate stopping of all movement and loss of wrist stiffness. These actions aid in protecting equipment and end-of-arm tooling. Remove obstructions, correcting problems, and resetting the OPD allows for a quick return to full production.
Each installed OPD allows for easy customization. The 1A and 2HD models with the electronic module (EM) include independent adjustment of pneumatic rigidity and electronic sensitivity to facilitate the control of both the amount of force used and the amount of travel the tooling plate must achieve before initiating the protective function. Because applications vary widely, this flexibility ensures the ability to fine-tune the wrist to your specific application.
Our Overload Protection Device must be installed with the recommended electronic interface module to achieve full plug-and-play functionality. The EM provides OPD control and various signal output options, including sourcing, sinking, and NO/NC relay contacts. The module includes independent three-point sensor adjustments as well as integrated air valve and vent valve controls. With easy integration and installation, the OPD provides added safety and protection for your tooling. You can rest easy knowing that you are protected if an overload occurs.