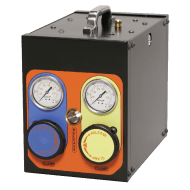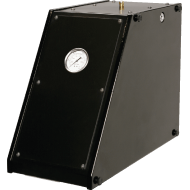 High Pressure Hydraulic Control Units (HC) are powered with commonly available air pressure and are made in a variety of configurations to optimize all QDC applications. From single valve (zone) carriables to multi-valve units, we've got just what you need to get the job done. Here's a summary.
Hydra-Mechanical (HM) clamps, also known as locking clamps, are hydraulically actuated and then mechanically locked during press operations. They need to be re-pressurized in order for the mechanical locks to be released. HM in the module part number indicates the addition of a hydraulic pressure booster button to make unlocking simple and easy.
Hydraulic Die Lifter Rails provide exceptional lift capacity, but need to be lowered prior to clamping. DL in the part number indicates the addition of a pressure relief valve to help protect the rails in the event dies are clamped before rails are lowered.
Smaller carriable power units are designated as (C) while the larger stationary units can be ordered as Stationary (S) for your own mounting or Mounting Bracket (B), Stationary Pedestal (P) or Rolling Stand (R).
For systems employing hydraulic only (non-locking) clamps it is necessary to, as a minimum, cross connect Ram Clamps with half of them to a separate zone and provide connections to the press control to stop the press on loss of system pressure. Maintaining dedicated controller connections and using the Pressure Switch (PS) option is minimally required/recommended.
| MODEL | CONFIGURATION OPTIONS |
| --- | --- |
| HM | Hydra-Mechanical Clamps |
| DL | Die Lifter Dedicated Zone with Overpressure Relief |
| PS | Pressure Switch |
| S | Stationary |
| C | Carriable |
| R | Roll-Around |
| P | Pedestal |
| B | Bracket |